Chevrolet of Homewood ONSTAR+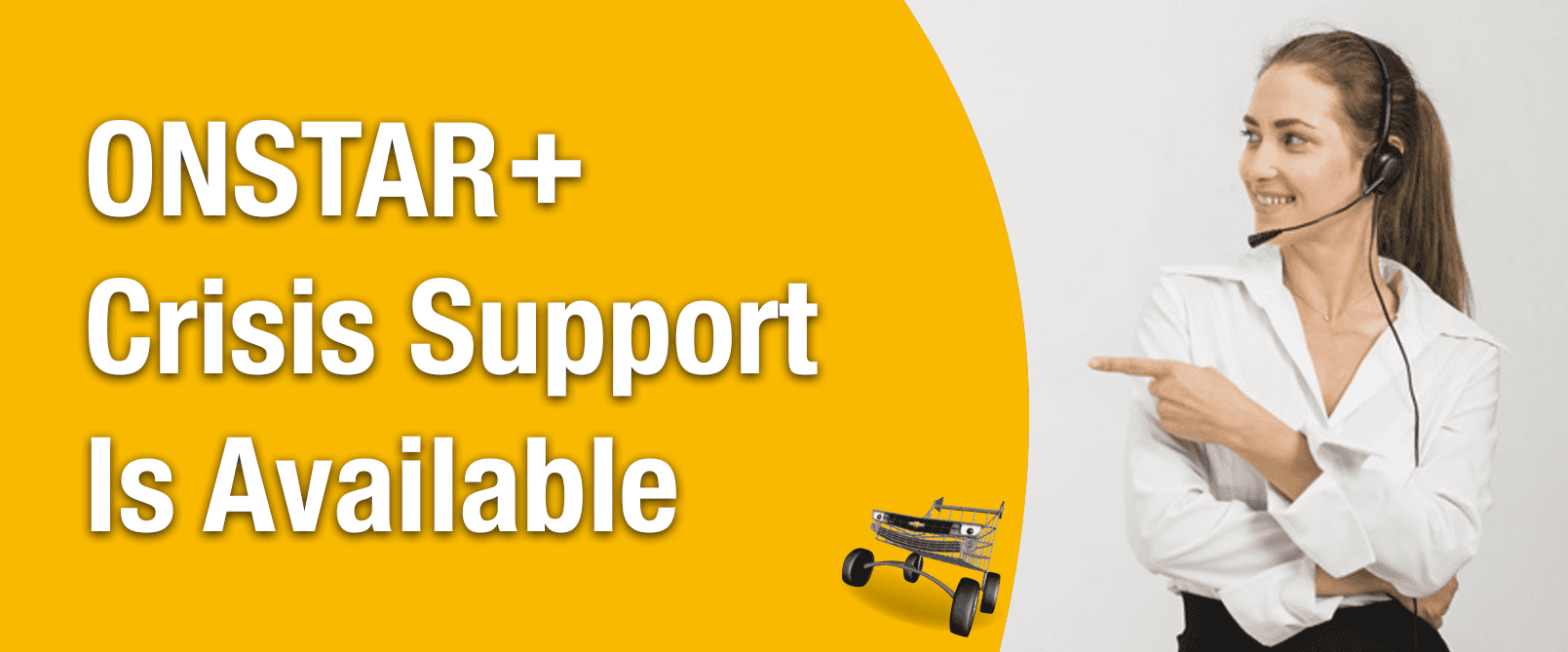 ONSTAR+ Crisis Assist – 24/7 Support
As this current pandemic has created feelings of uncertainty and difficulty for many of our members, we want you to know your OnStar service will continue to serve you during this time. Whether you need information or help, our service is only a button-push away, and we have taken steps to ensure our advisors are safely working from home so that we can continue to be available to you 24/7.
Crisis Assist Available
As the fluidity of this situation continues to change, we hope to assist our members by making Crisis Assist* available to all. Therefore, we are offering complimentary in-vehicle data* to current Chevy owners with properly equipped vehicles during this time. OnStar+ continues to support each of our members during this pandemic by providing a number of resources:
1. Our Emergency–Certified Advisors follow COVID‑19 specific guidelines created by the International Academy of Emergency Dispatch (IAED) which are approved by our physician medical director. Advisors screen for COVID‑19 symptoms and communicate that information to First Responders if you need help.
2. Advisors can provide routing assistance to COVID‑19 testing facilities near you.
3. A 24/7 Command Center monitors information from the CDC, FEMA, DHS and public safety professional associates for the most recent COVID‑19 information.
If you need to be out during this time, we recommend that you follow CDC guidelines. For your convenience, we recommend you try the available Marketplace* app in your vehicle's infotainment system. Use the advanced hands-free pay from your dash at 32,000 participating gas stations nationwide. You can also use your vehicle mobile app to schedule service with your dealer. You can also stay connected to news and loved ones with available features like In-Vehicle Apps* and 4G LTE Wi-Fi® Hotspot.
Contact Us Today
We are prioritizing critical members' needs to ensure emergency support is done without any unnecessary delays. You may experience longer wait times during this time, however, if you are not in need of emergency support but still require assistance, you can also reach us on Facebook Messenger. Visit the OnStar+ Facebook page and start a message with us.