Your Car Manual: Why You Should Read It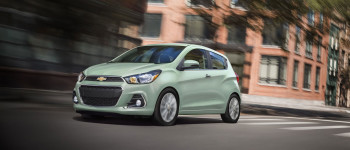 Here at Chevrolet of Homewood, we're happy to be able to offer expert maintenance and service, but do you know where we find out most of the information we need to know about your Chevrolet vehicle? From Chevrolet. That's right—we trust the information we get from the automaker, because who else would you trust to know about today's high tech cars? Luckily, you have easy access to exclusive information about your vehicle in your owner's manual.
Why You Should Pay Attention to Your Owner's Manual
With information ranging from tire pressure, to oil type, to how to reset your clock, your owner's manual is a valuable resource. In fact, it's more than just a handy guide to your car; it's also going to tell you what you need to do to maintain your manufacturer's warranty and keep your car running reliably. That's a big deal. These are a few of the most important resources in your owner's manual:
Maintenance Schedule: If you're driving a new Chevy, or you've been driving your car for a few years, you want to make sure that you're staying up to date with regular maintenance. That's why you need to pay close attention to your maintenance schedule. This includes basic service such as oil changes and tire rotations, but it also includes more complicated and irregular procedures like brake service, transmission service, and more.
Specifications: If you need to fill up your tires, change the oil, change the air filter, change transmission fluid, or any other maintenance task, you can consult your owner's manual for the appropriate replacement. We recommend you do that before you choose any aftermarket option.
Infotainment and Electronic Controls: Not sure how to sync your phone to Bluetooth? Unclear about how to setup your trip computer? Not totally certain what OnStar can do for you? There's a section in your owner's manual for all of those things and more.
Remember, your Chevy Owner's Manual can tell you almost everything about your vehicle. If you've got a question that the Owner's Manual can't answer, then consider stopping by your local Chevy service center, Chevrolet of Homewood, and our expert technicians will be able to help.
Visit Chevrolet of Homewood Today
Visit us here at 18033 S. Halsted St. in Homewood, IL to take care of all of your maintenance needs or schedule service online now. Chevrolet of Homewood is the leading Calumet City and Chicagoland area Chevy service center, so visit us now.